About Library
The Central Library, ICFAI University has been established in 2004 along with the establishment of the university and sifted to present building in December 2018. The magnificent, functionally convenient building built at heart place of the university campus. It occupies built up area of 12938.68 square fit with a seating capacity of 300 and equipped with tools to facilitate disabled users. The library caters the needs of the students, teachers and research scholars of the university. It not only helps in supporting the classroom instructional programmes of the University, but also unfolds the horizon of knowledge in regard to the different research programmes carried out by the university.
The library housed text books, derivative books, reference books, newspapers, magazines, and audio-visual documents, etc. The Library organised books and other information resources applying DDC Classification Scheme 22nd edition. The library is available with Photocopy Services, Current Awareness Services (New Arrivals Services and Current Content Services) Newspaper Clipping Service, Newspaper Editorial Services. The Library also provides online access of e-journals through EBSCO, JOSTER, DELNET, IEI, World eBook Library, and South Asia archives. Library users can access online database for e-book, e-Journals and other useful and research-oriented e-resources from any terminal within the university campus.
Library Layout
The Central Library of the university has been housed in four floor dedicated building:
Top Floor
The floor has collection on Library Science (020), Psychology (150), Political Science (320), Economics (330), Law (340), Language (400), Management (650) and Literature (800).
Ground Floor
The floor has Main entry, Circulation Section, Photocopy Section Reserve and Reference book Section, Periodical Section, IUT News Editorial, and Computer for OPAC search.
Basement One
The Basement has been housed with collection on Computer and Data processing (000), Pure Science (500), Medical Science (610), Engineering (680), and Back Volume Section.
Basement Two
The Basement has collection on Research Methodology (001.42), Psychology (100), Education (370), Sports (700) History & Geography (900), and Project Report Section, E-Zone, Book Bank Section.
Library Hours
Winter Session : 08:30 am to 09:45 pm
Summer Session : 08:30 am to 09:45 pm
Monday to Friday : 08:30 am to 09:45 pm
Saturday & Sunday : 06:00 pm to 09:45 pm
Contact Me
Mr. Suman Dey
Assistant Librarian
Email: librarian@iutripura.edu.in
Mobile No.: 8837090670
Library Rules
Library Membership
The Library Membership is automatically conferred to all the Students, research scholars and faculty members on his / her joining the university and remains valid for his/ her full tenure.
At Library Gate
Entry in Library premises is allowed only after verifying the Identity Card given by the university.
A member must enter his / her name, time of entry and time of exit and put his / her signatures legibly in the register kept at the entrance for the purpose as a token of his acceptance to abide by the library rules.
The articles that may cause undue inconvenience to other members are strictly prohibited inside the premises of the library such as umbrella, briefcases, boxes and such other articles.
These may be kept outside in the pigeon-holes/ property counter by members at their own risk.
Library shall not be responsible for any loss or damages of the personal belongings of the user.
On Leaving the library all users are required to produce for inspection of all books and items taken out of the library.
Inside Library
All users must maintain a peaceful environment of study within and around the Library.
Talking, eating, smoking, using a mobile phone or sleeping is strictly prohibited.
Kindly keep your Mobile phones in 'SILENT MODE'.
The library users should not deface, mark, cut, mutilate or damage library materials in any way. If anyone is found doing so, he/she will be charged with the full replacement cost of damaged material leading to suspension of library account and be barred from entering the library.
All users are advised not to re-shelves the books by themselves.
All users must vacate the library premises before 30 minutes of closing time of the library to ensure the closing of library in time.
The library staffs on duty have the right to request to the users to leave the premises if he/ she is found to be violating any of the Library rules.
Loan Privilege
Reading materials may be used within library premises or borrowed for external use.
Member should produce his/her ID card for borrowing library documents.
Magazines, Journals, Newspapers, Reference Materials and rare books are only for reading within the library.
The borrowed documents must be returned by the member on or before the due date or earlier if demanded by the library.
It is the sole right of the Library to issue or not issue or not re-issue any book. No document shall be returned on the day of issue.
All issued books shall be returned on the 3rd or 15th day by students and 3rd day or 181th day by faculty from the date of issue. If the due date happens to be a Holiday the book shall be returned on the day the library re-opens; failing which the fine shall be charged for the entire period of holidays i.e. from due date onwards.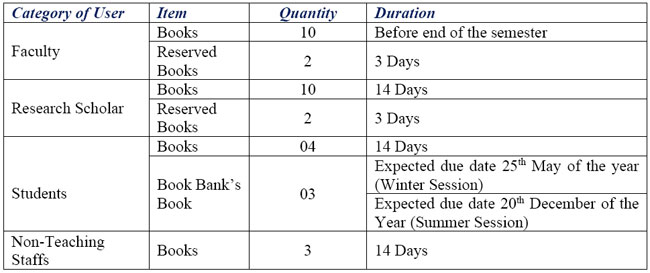 Care of Library Books
Students are required to handle the books/ journals very carefully; marking with pencil, writing or highlighting, tearing the pages or mutilating the same in any other way shall be viewed very seriously. In such case the reader shall be held responsible.
Borrowers are requested for safe and careful use of library documents and must ensure that the library documents borrowed by them are maintained in sound condition. The borrower will be held responsible for any damage of the document(s) and he / she may have to replace the same or pay the damage as per rules of the library.
No user shall write, or make any mark upon, fold or damage any document of the Library if found doing so necessary action shall be taken as per rule.
Fine on Books
In the case of loss / damage of a Library book, it has to be replaced by the latest edition of the same or double cost of the book must be paid. In the case of loss of a single part of a multi-volume publication, entire set will be recovered /replaced from the borrower.
Non returning of books in time will lead to penalty of Rs. 5.00 per day.
If any Student found default thrice, he/she will not be allowed to Issue any Book for same semester No Dues/ Clearance
Users can collect their "No Dues/ Clearance" form their concerned department. "No Dues / Clearance" from the Library can be obtained after returning all borrowings and dues of library on the form.
Violation of Rule
Any violation of Library Rules shall lead to forfeiture of the membership of the concerned member. Appropriate disciplinary action may also be imposed.
The Librarian reverse the right to suspend the membership of any member found misbehaving with the library staff or with any other member.
Guest Visitor
Any Guest who want to visit to library needs to seek permission of Registrar/Librarian.
The guest does not have right to barrow any item of Library.
The guest is requested to write his/her feedback on Guest register available with security.
Note: These rules are subject to revision/updation from time to time without assigning any reason.
E-Resources
Subscribed Resources
DELNET
IEI
JSTOR
MANUPATRA
Databases Accessed through MOU
E-Sodhsindhu
ShodhGanga (Reservoir of Theses)
ShodhGangotri (Research in Progress)
SAA (South Asian Archives)
WEL (World e-Book Library)
Digital Library
Consortium for Educational Communication
National Digital Library of India
National Science Digital Library (NSDL)
Open Access Library (OLA)
The British Library
UNESCO Library
Virtual Library
World Digital Library
E-Learning Resources
E GyanKosh (IGNOU)
EPG Pathshala
Khan Academy
NPTEL E-learning Resources
Open Access Journals
Multidisciplinary
Brill Open E-Journals Collection
Cambridge University Press: Open Access
Cogent OA
Directory of Open Access Journals
ElSEVIER (Open Access)
ERUDIT
Free scholarly electronic journals: an annotated webliography
HIGHWIRE
Hindawi - Open Access Journals
JSTOR (Open Access)
KARGER
LUND UNIVERSITY LIBRARIES
Nature Publishing Group - Open Access Journals
OMICS Publishing Group - Open Access Journals
OMNICS OPEN ACCESS
Open Access Library (OALIB) - Free Access to 263,388 Academic Articles
Open Science Directory - Developed by EBSCO and the Hasselt University
OXFORD ACADEMIC
Palgrave Macmillan - Open Access Journals
ScienceDirect (Open Access) https://www.sciencedirect.com/browse/journals-and-books?accessType=openAccess&accessType=containsOpenAccess
SCIENCE OPEN
SPRINGER (Open Access)
Taylor & Francis (Open Access)
THIEME OPEN
WILEY (Open Access)
Bio & Medical Sciences
Public Library of Science - premier open-access journals in Biology and Medicine
BMC, research in progress
Bioline international
Molecular Diversity Preservation International (MDPI)
European Scientific Co-operative on Phyto therapy Journal
Nature Preceding - Preprint server for the Life Science community
Journal of Postgraduate Medicine
Nutrition Bytes
Free Medical Journals
Chemistry
Directory of ABC Chemistry
Physical
Indian Academy of Sciences (IAS)
PhysNet
International Network for the Availability of Scientific Publications
Rare Books
Rare Book Society of India
In-House Resources
Coming Soon...
Research Assistance
Coming Soon...
Useful Links
Coming Soon...